Cryptocurrency white paper
Of course, you'll also want to do due diligence on the team members, token allocation, and other key information contained in the white paper. We've seen examples of companies plagiarizing or falsifying their white papers, so do some fact checking and background research. Don't take these documents at face value.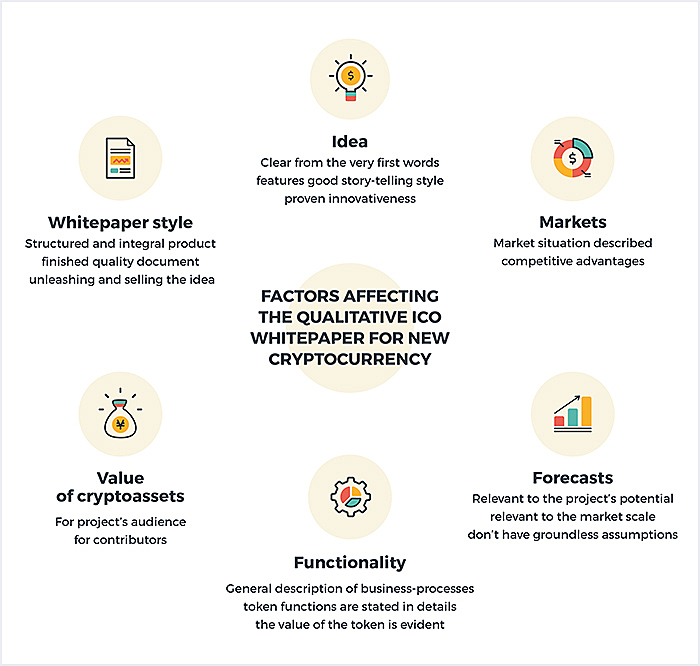 How to Read a Cryptocurrency White Paper
If you're interested in the blockchain space, whether as an investor, businessperson, or developer, one thing you can't avoid is white papers. Every week, there is a new blockchain or cryptocurrency white paper touting new technologies that will "revolutionize" the industry. In addition, many of the major projects in the industry, like Bitcoin and Ethereum, began with white papers.
As a result, white papers have come to be known as an essential part of creating a new blockchain project or cryptocurrency. Investors, businesspeople, and developers expect to see a document that explains what problem the project solves and how it does so.
Consequently, learning how to read a white paper is a critical task for anyone getting involved in crypto. As most investors and observers in the industry know, there are quite a few scams in the space. Moreover, many projects sound good, with the right buzzwords and marketing speak, but they're not backed up by any follow-through, and they quickly fizzle out. In this article, we'll take a look at how to spot a good white paper with a valid idea and technical chops to actually execute on the idea.
Disclaimer
I know every blog article out there says, "This isn't investment advice." But this one really isn't investment advice. This is a beginner's guide to basic things to look for in a white paper if you're interested in a project. Yes, interested might mean investing, but it also might mean contributing to the open source code or helping with the marketing or participating in the community. It also might just mean lurking and being interested from afar. That's totally cool.
I decided to add this disclaimer after I got a snarky email from a reader saying my white papers 101 guide didn't include enough information on go-to-market strategy and monetization of ideas. I appreciate the feedback and realize the original version of the article didn't make it clear enough that reading a white paper isn't exclusively the domain of investors. Anyone can read the documentation for any project they're interested in. Not every project is out to make millions, and not even every project has an ICO! There are a lot of great ways to get involved in not-for-profit or open source projects, and those have white papers that you'll want to read, too.
How to design a Crypto ICO white paper
Choose the right tool
If you look at the 90% of ICO white papers, you'll see that they are created in Word or PowerPoint software. We can't deny that content is a critical decision-making component but the first impression is made by looking through the white paper, paying attention to its visual style, media, and graphics.
While Word will remain the most popular tool for young crypto enthusiasts, thoughtful start-up founders might stand out by hiring an expert who uses InDesign to design a white paper for ICO – a professional design tool that will add to the credibility of the white paper and make it more eye-catching. Even beginners may find some decent templates within the tool and experiment with forms, colors, and fonts.
Elaborate on the structure
Cover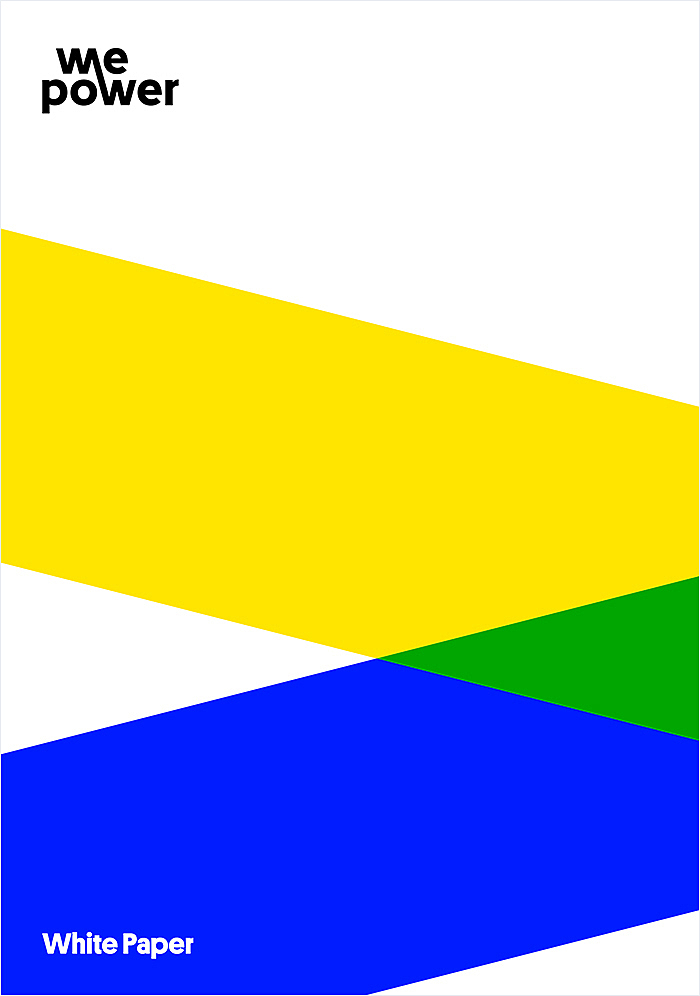 Cover is the first thing people see after clicking on the "white paper" tab. Even if you want to save money on design (which is a short-sighted approach, we can't stress this enough), try at least to present a cover that grabs users' attention. It should take after your corporate style, if any, and have a logo with a description of an ICO.
The table of contents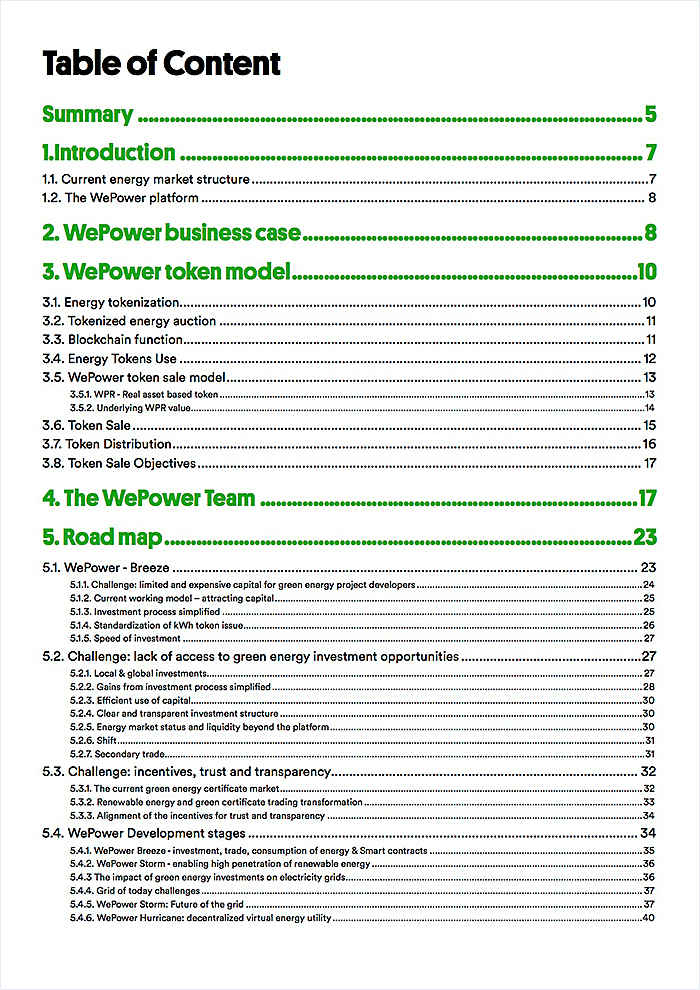 It gives an overview of what's going to be next. Highlight the main sections, use consistent fonts that are maintained across the whole document and make it clickable. Mind also the page number and footnote style, these small details enhance the UX and may impede the overall picture if they are poorly designed or omitted.
Graphic elements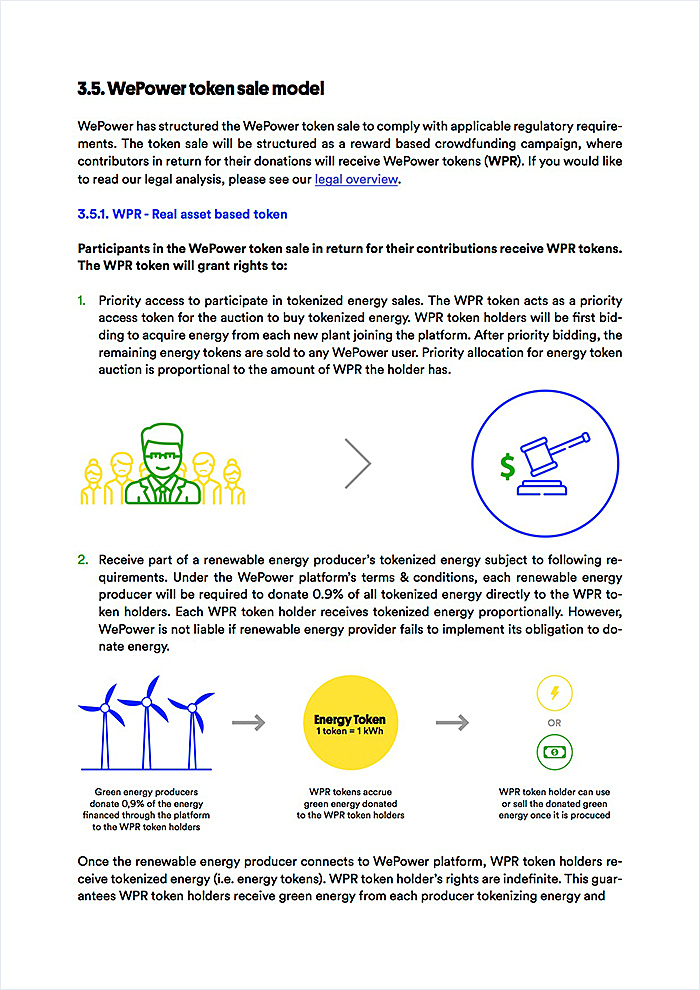 Graphic elements are another point of attention for an ICO white paper designer. They should be matched by style with fonts and colors, so don't rely on standard stock images and icons, as they may be perceived as out of place in the context of a business plan UI.
Media elements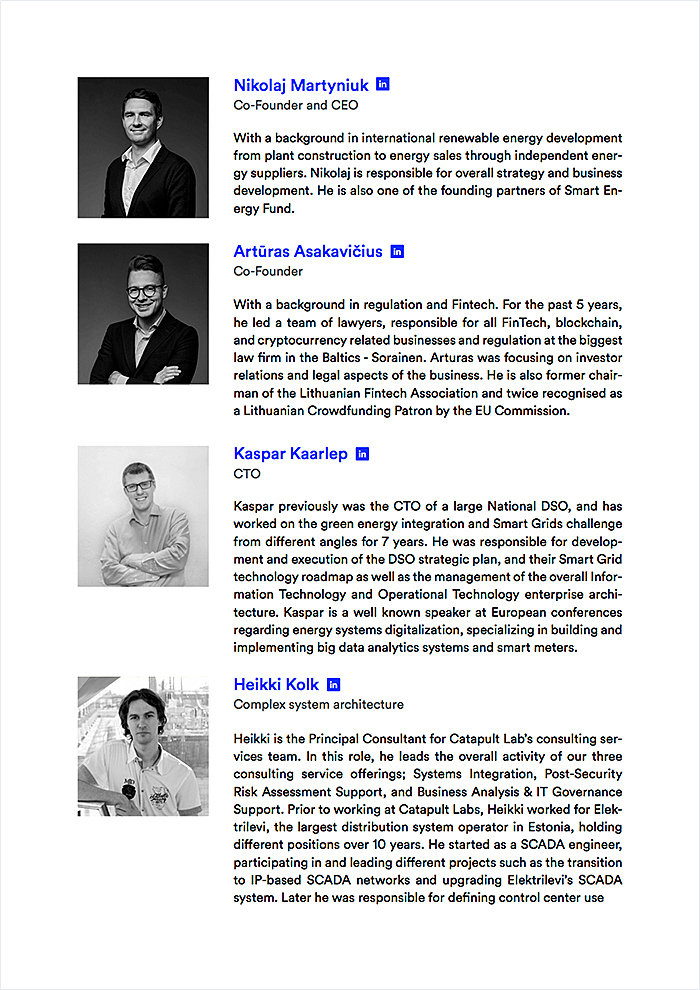 Let's take an example: the most popular media in a white paper are photos. Normally business owners publish photos of the team to increase trust and introduce themselves to potential contributors; good quality and a consistent style are both important. If you don't have the opportunity for a corporate photo shoot, you can process the photos so they look alike. For example, ask the team for official-looking photos and make them black and white.
Corporate template and company identity (if any)
At the top of all the design elements lies the visual style and identity. Some start-ups have already developed a corporate brand book that they expect all website designers to follow. However, they're not always ideal for a white paper, as a very bold and explicit style may influence the perception of your business idea. For example, if you have an ICO backed by an adult store, try to steer clear from a provocative white paper design, as it might seem irrelevant in terms of an ICO campaign.
Add more white space
Nevertheless, in some cases designers are too serious about white papers, so they just put text into pages as it is. Small margins, minimal white spaces, and endless text sheets without graphics are likely to make your readers bounce.
Enhance with colors
Sometimes the ideas go beyond the corporate style colors, so you can create your own color palettes within a white paper using a color wheel; try Adobe color CC tools and the tips from our recent article. Use bright color accents to enhance a hierarchy of information and highlight the essentials.
10 Best Crypto & NFT White Paper Examples in Terms of Structure & Design
1. WELL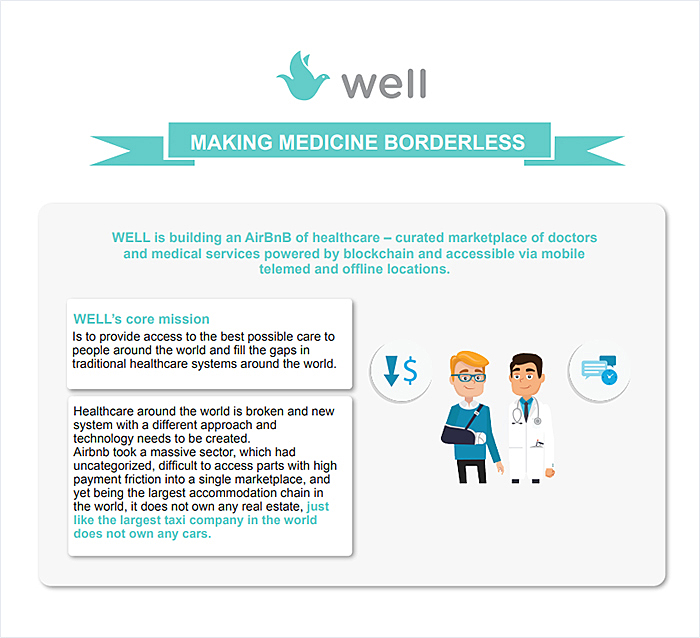 Ideas: Dilute, business-like colors and lots of white space. The plus point is custom medical graphics that enhances readers' comprehension – if you want something like this, check out the set of healthcare icons from Agente which you can download for free.
2. HOQU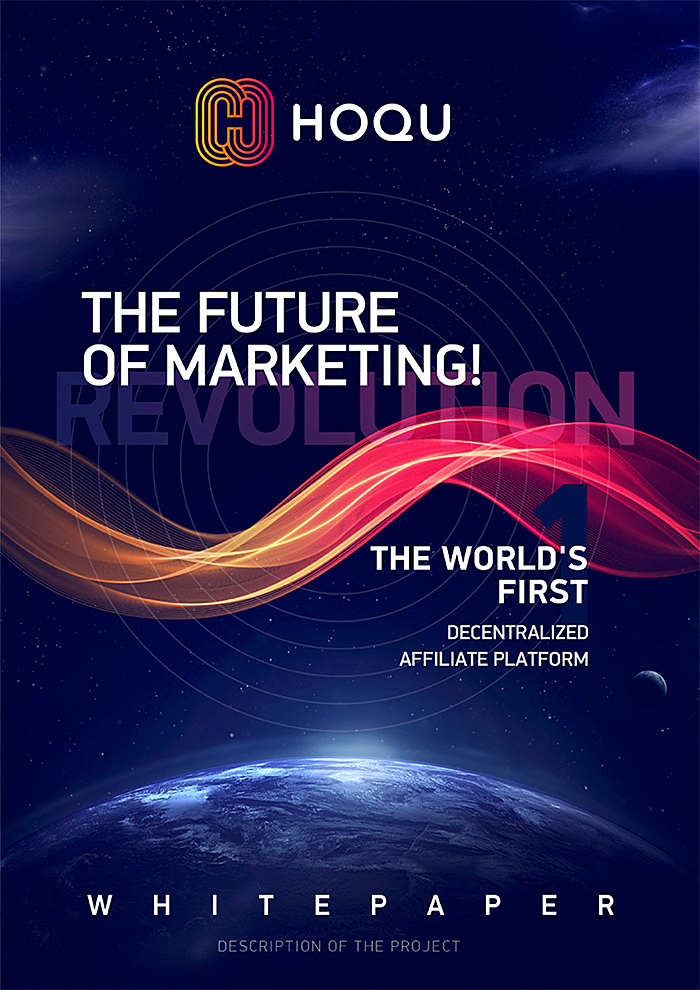 3. Sentigraph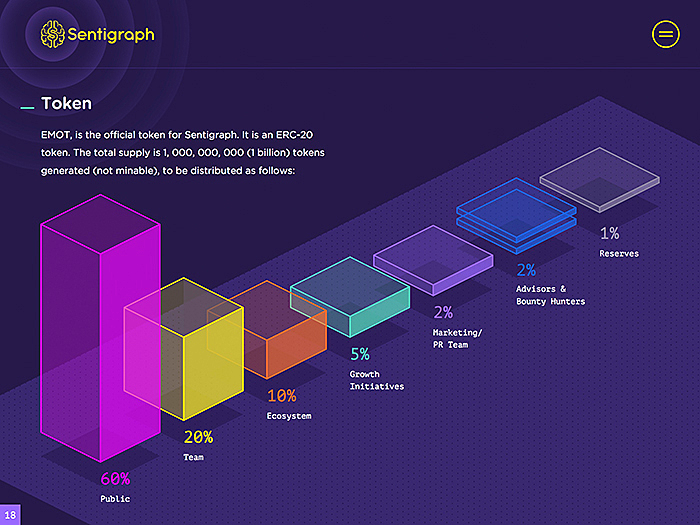 4. Rentberry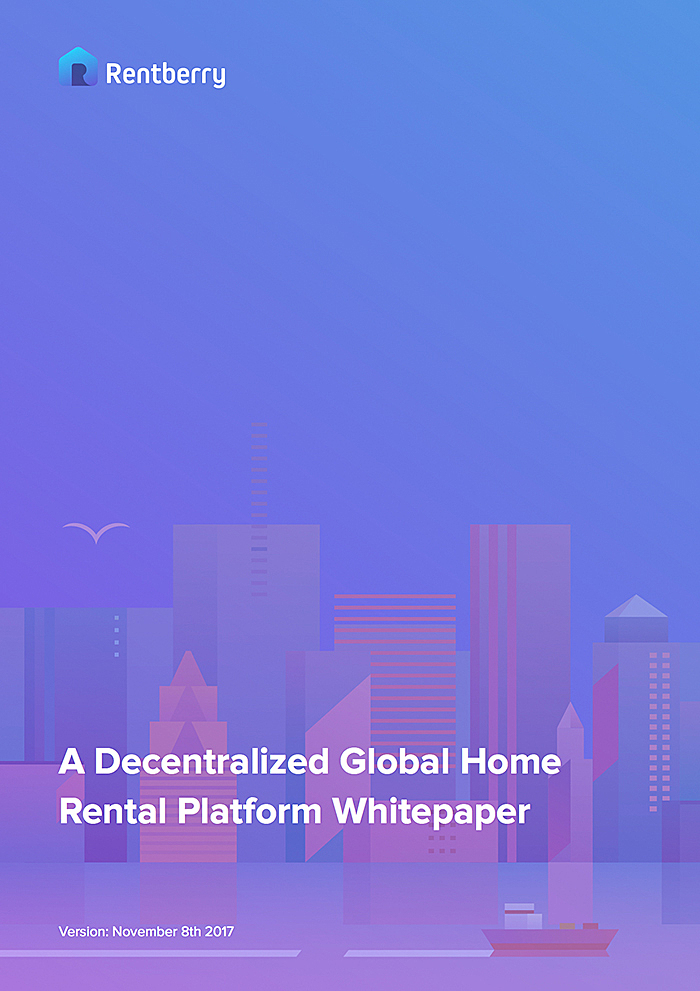 5. Dribbble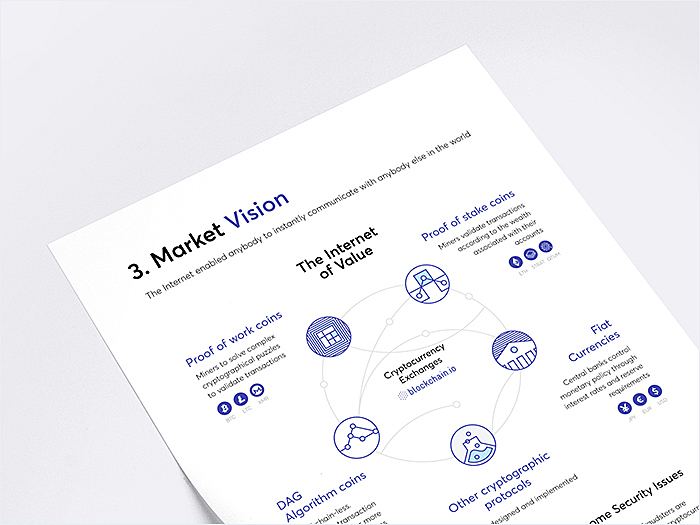 6. Enjincoin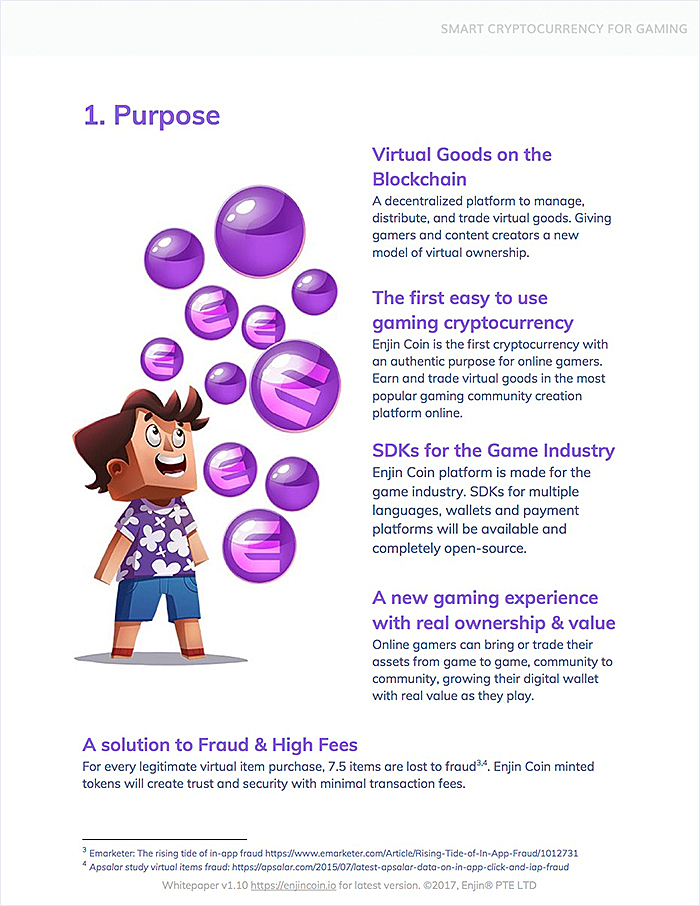 7. Bravenewcoin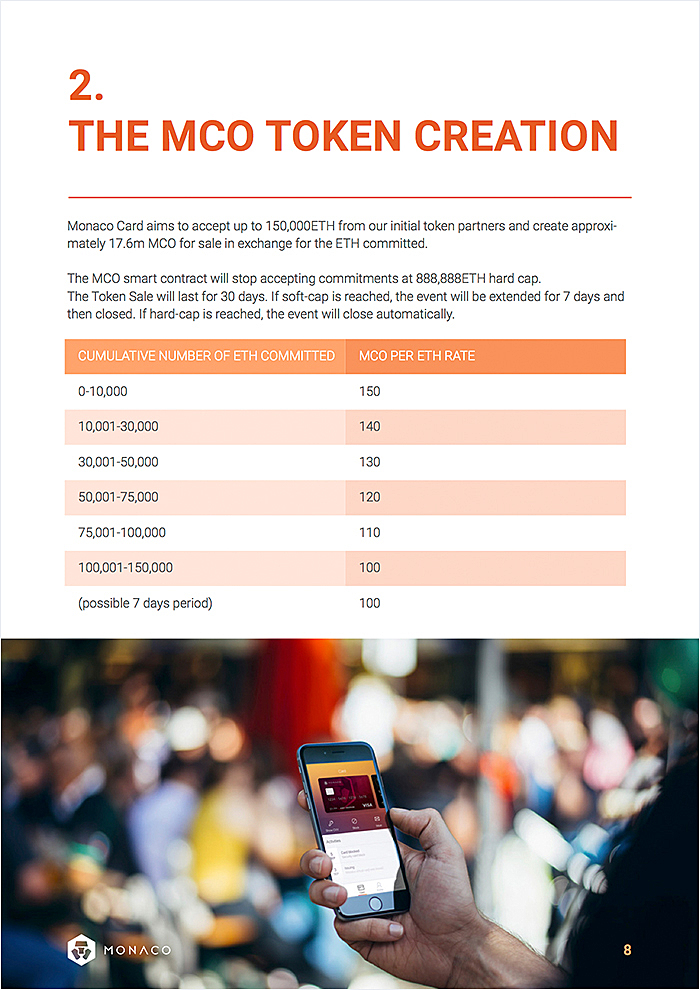 8. Genesis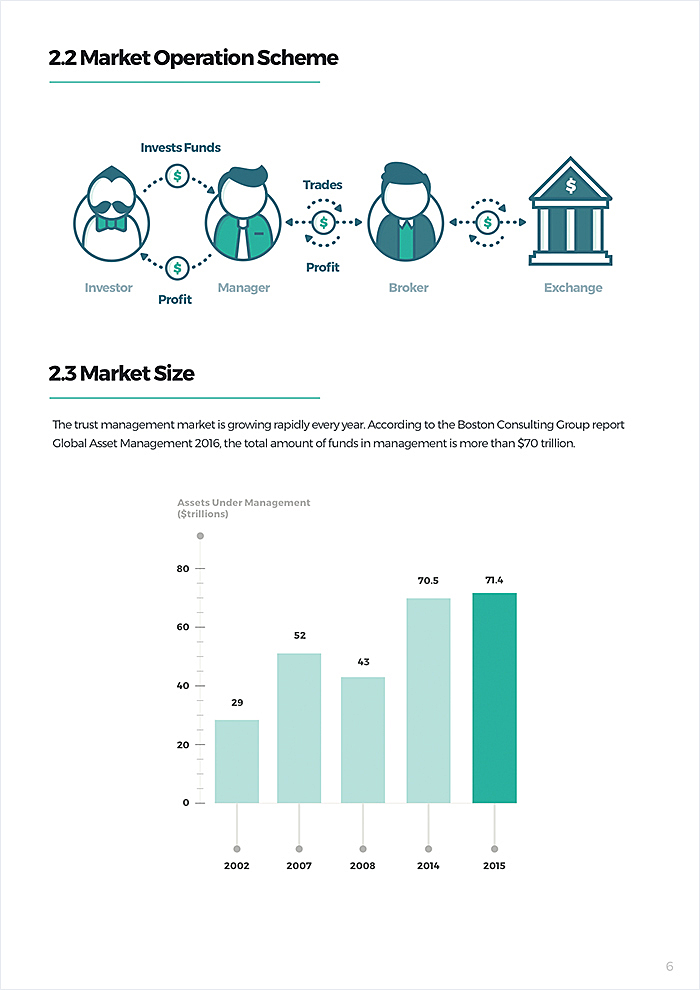 9. Tokensale.civic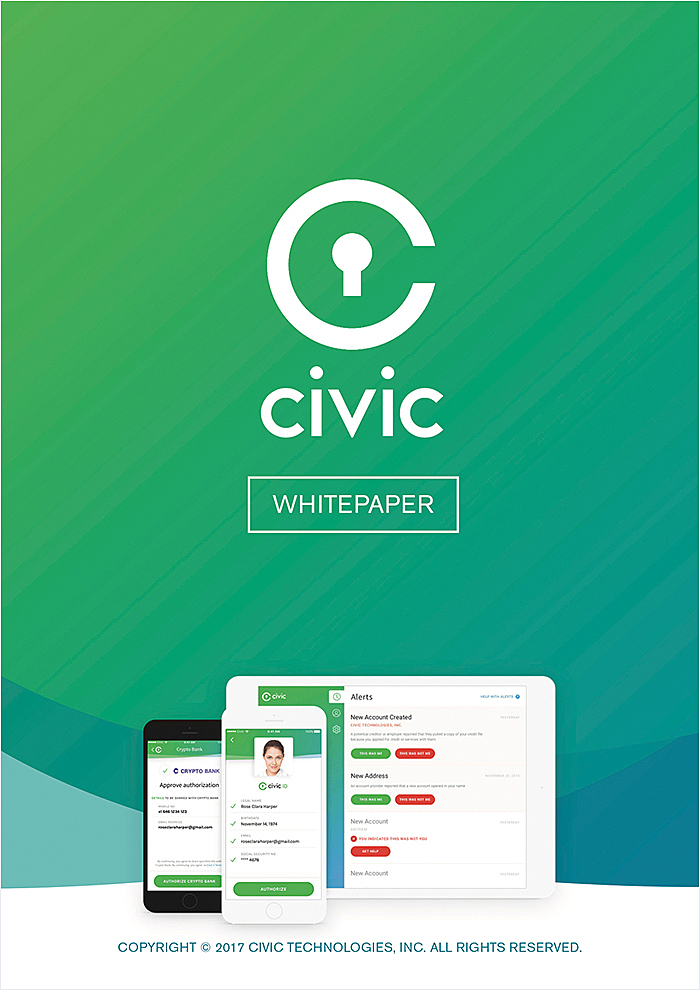 10. Sonm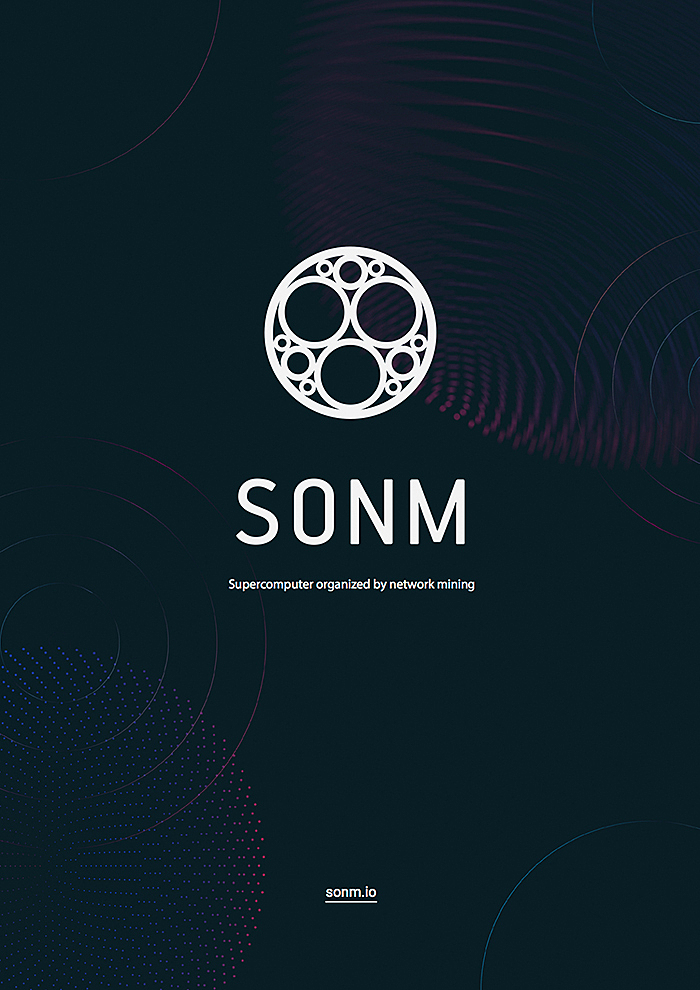 Cryptocurrency white paper
Markets
UK Court Orders Bitcoin.org to Remove White Paper Following Craig Wright Lawsuit
Ripple Touts Role for XRP in Central Bank Digital Currency White Paper
Markets
Bitfinex Releases Official White Paper for 800 Billion Exchange Token Offering
Markets
Wallet Provider Blockchain Is Backing Crypto Giveaways In a Big Way
Markets
UN Trade Body Examines Blockchain's Potential in Supply Chains
Markets
E-Commerce Giant JD to Launch Blockchain-as-a-Service Platform
Markets
What to Look for in ICO Terms and Conditions
Markets
Ripple Papers Pledge New Start for $40 Billion XRP
Resources:
https://coincentral.com/cryptocurrency-white-paper/
https://agentestudio.com/blog/10-best-ico-white-paper-examples-structure-and-design
https://www.coindesk.com/tag/white-papers/
Cryptocurrency white paper
Finally, you should describe how potential investors can contribute to and fund your projects and the advantages of investing in the project. Depending on the amount of financial rating, cryptocurrency projects typically reward backers with special launch tokens or exclusive coins. It's a good idea to divide backers into tiers and offer different rewards for different amounts of money invested. Make sure to reward public investors fairly, as they will invest in your project based solely on your whitepaper. While writing this section of the cryptocurrency whitepaper, you should use your best judgment based on the scope and requirements of your project.
Crypto White Paper Guidelines | How to Write it & Rules to Follow
Launching a new cryptocurrency-based startup or creating a new cryptocurrency from scratch can be difficult without proper funding. Getting global investors to fund a company's cryptocurrency can be challenging without a comprehensive outline of your plans and the benefits for backers. According to research, 81% of the world's population has never purchased cryptocurrency, with only 10% claiming to comprehend how they work thoroughly. For this reason, crypto developers have introduced white paper as part of the initial coin offering (ICO). The ICO takes place before the development and launch of a new digital currency.
Let's look at the role of whitepapers in cryptocurrency development to see how they can help your project get off to a good start. White papers, in general, are supposed informative documents that companies issue to present a product or service to public backers. They use as part of a company's overall marketing strategy. Crypto companies are now using these as advertising materials for cryptocurrencies since they offer a detailed breakdown of how the currency will be created. This means that writing a white paper for an upcoming cryptocurrency project is very important if a company, especially a startup, wants to efficiently attract investors and secure funding for their startup.
Once you publish a well-written whitepaper and set up a trustworthy cryptocurrency wallet, your crypto project will benefit you in several ways. These include; raising public awareness for your cryptocurrency project, quickly filtering relevant B2B investors and B2C backers, increasing project engagement and ICO funding conversion rates, and faster acquisition of necessary development assets.
Before we dive into how to write a white paper, let us look at the difference between whitepapers and press releases. While both are necessary for you to get attention from investors, media, and your target audience, there is a difference. Usually, when companies are looking to make an announcement, it's normal to default to using a press release.
These are generally short, factual announcements that are designed to share news about a company. On the other hand, white papers can compare to persuasive essays that use facts and arguments to promote a particular product or service. While a white paper is also created by a company, whitepapers are longer and designed to help brands present facts and develop arguments. Oftentimes, they are submitted to media publications as bylined articles or opinion pieces.
When it comes to the crypto industry, it's important to note that not all white papers, even in the crypto space, are about raising capital. Many are used solely to spread information to a user or enthusiastic community. Indeed, the first use of a white paper in the crypto world was to announce important news and inform people of new developments. When Satoshi Nakamoto birthed the blockchain revolution in October 2008, he announced it by publishing the Bitcoin white paper on a cryptography mailing list. This sparked a tradition of using a white paper to inform new concepts, theories, and applications in the blockchain space. Writing white papers has become a valuable skill as a result.
An essential function of a white paper is to justify a new idea, concept, or solution. In the case of blockchain-related projects, it's frequently about justifying and explaining why a crypto company is building a solution and issuing a token. More importantly, a white paper is designed to explain the advantages that those who invest in the project will receive. White papers that adequately justify why a crypto project exists and explain the merits of the coin they are issuing to raise funds are, in fact, the most effective.
Unfortunately, most white papers fail to justify either the project or the token they want to sell or airdrop. As a result, it's far too easy for potential backers to conclude that they will have a slim chance of recouping their money. Any investor who has a negative impression of a project's coin will not buy or accept it. A white paper also does an excellent job of justifying and explaining why the team behind the project is the best one for the job. After all, people buy a brand, not their products. In other words, they buy a company's product because they trust the brand's abilities. This is even more true with blockchain projects. Many investors purchase a token or invest in a project because they recognize a name on the team or are confident in their ability to complete the project.
A white paper is also an excellent way to demonstrate the team's capacity and skills. It accomplishes this by providing detailed biographies of the team's key members. It also achieves this with a professional appearance. A comprehensive, thorough, realistic, and clear explanation convinces readers that the project's creators are knowledgeable about what they're doing.
The role of white papers in ICOs
Not all cryptocurrencies have white papers – many early coins such as Litecoin launched with a simple project description on the Bitcointalk forum in a bid to gain early support from miners – but these documents have gained preeminence in recent years due to the influx of ICO activity.
As of November, there were about 50 offerings per month and by the end of the year, ICOs had raised approximately 40 times as much capital as they had in 2016 – although they still amounted to less than two percent of the capital raised by Initial Public Offerings (IPOs).
Today, ICO-related activity has lessened. According to cryptocurrency ranking website CoinGecko's 2018 Cryptocurrency Report, the number of ICOs being able to achieve their investment hard cap dropped from 53% in January 2018 to 10% in December of the same year.
Regulatory uncertainty, especially in the US, has meant that raising money via ICOs has become increasingly difficult. As such, many teams are now looking to fundraise via Securities Token Offerings (STOs), although no jurisdiction has legalized this and there's still a lack of security token exchanges in the market. Regardless, STO offerings are legally required to offer investors a prospectus, which in itself, has caused a shift in the role of white papers, rendering them somewhat unnecessary.
"To a large extent, a white paper allows the community to vet an idea and vision in detail. During the ICO boom, the white paper serves largely as an investor prospectus/pitch deck to raise funds from the public. It deviated from a technical-heavy document to a business plan masquerading as a white paper," Bobby Ong,co-founder of CoinGecko told Hard Fork, adding:
"As many of these ICOs have no working product, it is hard to determine which ICO projects are worth backing. To many investors, the quality of the white papers' vision and writing serves as an indicator to the quality of the team behind the project and became an investment indicator."
The future of white papers
"The white paper is here to stay. The Bitcoin white paper serves to describe the technical vision of Bitcoin and solid projects are still writing white papers to describe their visions. It is during the 2017-2018 ICO boom that some projects changed the white paper to serve more like a business pitch deck. Also due to the sheer number of ICOs coming on board during the bull run, the quality varies a lot," Ong said.
Tomer Sofinzon, founder and chief business development officer at Pillar Project, notes that while white papers have been a critical component for an open-source system such as blockchain and cryptocurrency, "they also became the primary vehicle for scammers, fraudsters, and tourists to raise money easily with no real responsibility and accountability to their contributors by telling fake promises with no connection to reality."
Highly technical projects are rife in the industry and it is here where white papers prove to be most useful as they help to communicate a project's purpose to its audience, but it is, in fact, this technical complexity, and the mainstream citizenry's lack of understanding, that could help propel illicit projects forward.
The question is not whether white papers will continue to play a crucial role in the industry, but whether the maturity of the latter will pave the way for professionally drafted proposals that represent truly legitimate undertakings.
For others, as Ong quite rightly pointed out, the future of whitepapers will depend on how the ICO and STO marketsplay out. If the former wins, we're likely to see the continued emergence of whitepapers in the space. So, stay tuned.
Resources:
https://press.farm/write-effective-white-paper-crypto-project/
https://thenextweb.com/news/a-brief-history-of-cryptocurrency-and-blockchain-white-papers
https://thenextweb.com/news/a-brief-history-of-cryptocurrency-and-blockchain-white-papers
Cryptocurrency white paper
Phase 3
(From October. 2021)
• CMC Listing
• Dex Liquidity Pool
• P2P Trading Option
• Cex Exchange Listing
• CEX Exchange Concept
• Blockchain Development
• NFT Mobile Games Launch
• Two Million Miners Achieved
• Bitcoin Mining Browser Launch
• EagleSwap Exchange Economy
Cryptocurrency white paper
Eagle Network has developed the world's most innovative mobile mining solution. We are giving anyone the opportunity to mine a coin with a mobile phone. We have developed advanced communication and break-through platform. Altogether what we have to offer is a high-tech solution using blockchain technology. Our platform is designed to disrupt the cryptocurrency industry as we make mining possible in the most cost-saving and energy-saving way.
The idea for a true peer-to-peer and decentralized electronic cash system was initiated on October 31, 2008, by Satoshi Nakamoto, who is renowned as the creator of the internet of money. He released the Bitcoin whitepaper, which triggered a revolution in people's minds about the nature of financial transactions and the open possibilities of reforming the way people trade. Currently, Bitcoin is the most popular cryptocurrency with over a million users. Other popular cryptocurrencies include Ethereum, Litecoin, Ripple, and Dash, which have been taking over the financial world.
Many people are investing in the cryptocurrency market daily. The whole ecosystem expands exponentially as more and more people are becoming cryptocurrency investors, traders, or miners every day. With every increase in value that Bitcoin makes and with every new billion the crypto markets draw in, the electronic coins become harder to resist.
The accelerated development witnessed in the industry is sustained and secured based on a purely technical, infrastructural standpoint, mainly by the proof-of-work blockchain protocols, such as those underpinning Bitcoin, Ethereum, and Litecoin. Proof-of-work protocols will always require miners to perform the work and secure the network, and miners will always need to be incentivized to apply themselves and their resources.
Over the past few years, cryptocurrency mining has generated some impressive fortunes for a number of people who took advantage of it at the right time and never looked back, and also for those who were resilient and dedicated to face the more challenging moments. However, life for amateur miners has not been challenging.
We know that cryptocurrency mining can be very profitable if done right with the correct mindset. In fact, mining is a safe way of investing in cryptocurrencies alongside balancing and diversifying a crypto portfolio. One of the advantages of mining is that it makes it more challenging for new investors to become victims of the temptation of gambling, panic, fear, or market manipulation. This suggests that mining is the best way to start investing in cryptocurrencies. Therefore, Eagle Network is set to make mining as easy as possible.
The Eagle Network mobile application give it users the ability to mine (receive) Eagle cryptocurrency free on a smart phone with just a click. User can now get the cryptocurrency every 24 hours on Android and iOS apps. The only requirement is to check into the app and click to activate the cloud mining process. There is no need of any special hardware like Bitcoin, or seting up master nodes like other cryptocurrency blockcahin project to get the coin/token. It is completely free for everyone worldwide.
Whereas to mine Bitcoin, it requires more electricity annually than the whole of Argentina, as analysed by Cambridge University. "Mining" cryptocurrency is power-hungry, involving heavy computer calculations to verify transactions.
As a result, new innovations are taking place which will provide faster transactions without the need of paying huge transaction charges and optimizing resource utilization. Binance Smart Chain is one of the new innovations improving on the mining protocol for a more friendly process.
Eagle Network is taking it further with a unique algorithm innovating what is presently available. Eagle Network is introducing a new Blockchain protocol called Elevated Proof of Stake (EPoS), which will increase speed of transactions, security and offer multiple applications which holders can use every day.
We will associate with people of vision just like the Eagle, operating at same level high above others just like the Eagle. People willing to grow, and participate at the birth of a new digital currency as the world is about going through a paradigm shift in the ways we transact with one another.
It is interesting that this whole industry founded on mass empowerment principles currently makes it so challenging for individuals to profit by sustaining it. Public mining services are indeed a very lucrative business that benefits from a lack of severe and wholesome competitiveness driven by product enhancements.
The Eagle Network team has carefully monitored and assessed the mining market for a while, and we have noticed the lack of flexibility and even a tendency for centralization of large-scale mining operations. If the principles that made us participate are based on new possibilities for independence, then the profits from doing the necessary work should be easier to access.
Purpose of White Paper
The first question to ask about the purpose of a blockchain or cryptocurrency white paper should be pretty straightforward, but most of the time you will find the white papers confusing. A thorough reading of any blockchain white paper reveals that for a majority of readers, the combination of buzzwords, technical jargon, and coined names found make the reading experience full of complication.
If you are not sure what the project does, there are two likely conclusions. Either the project is so advanced that you will need more knowledge before you understand it, or the project really does nothing. Either way, you probably shouldn't invest in the project yet. It doesn't matter what others say or read on Twitter, Reddit, or the forums, if you don't understand a project, don't invest in it.
As an example, one can read the bitcoin white paper to understand various sections of a crypto whitepaper. A good cryptocurrency whitepaper ought to justify however the technology can work, and therefore the best whitepapers do thus with variable degrees of complexness and technical information required. This is where the original Bitcoin whitepaper really shines. As a general practice, white paper writers focus on the tokens of the blockchain projects, which may be a utility token, a security token, an asset token, a NFT (non-fungible token), or a combination thereof.
Blockchain Technical Writing
A blockchain cryptocurrency white paper is a document that outlines the basic concepts of a new cryptocurrency. It describes how a new crypto-coin or a cryptocurrency token will operate and explains how it is different from a traditional digital currency. A good white paper will also provide some details on the project, including the initial goals and a detailed roadmap of development. Some blockchain experts recommend creating a white paper that has pictures of key individuals. If you plan on publishing a whitepaper, make sure it includes these details.
The purpose of a blockchain cryptocurrency white paper is to give investors and developers information about the project. It should include a detailed analysis of the cryptocurrency in question, its development, and its market potential. If it is a new project, the white paper should explain the technical details as well as the motivations for launching the venture. It should also explain why the project needs the blockchain. Once investors are convinced, they should consider investing in a new blockchain cryptocurrency.
Creating a blockchain cryptocurrency white paper is a vital first step in the process of building a new cryptocurrency, which may be a virtual currency or a crypto token. It should contain all of the necessary details and information, such as the platform's mission, its technical features, and its market potential. The document should also be comprehensive, and should contain the company's vision, and should provide information on its founders, its team, and the proposed technology, which may be protected by way of blockchain patents. The white paper should also outline the responsibilities of the team and the business model.
A blockchain cryptocurrency white paper should include a description of the blockchain. It should clearly state the advantages of the new technology, such as the ability to create trust. If it can't convince you to invest in a new project, it may be a good investment. A bad blockchain cryptocurrency white paper will only give you the wrong impression. A solid one will provide you with a clear idea of the project's business model. It will also be useful in determining whether the new cryptocurrency has any value.
Some of the blockchain crypto white papers are written in plain English. Some of these white papers are available in public domains. The first is BGOGO, which is a cryptocurrency based on Bitcoin and is a proof of stake currency. The second is Libra, which is a local search engine. The third is the Bitfinex private token, which is also called a "Libra." It is a decentralized network that uses a crypto-like system to manage users' funds.
A blockchain cryptocurrency white paper is a document that is designed to inform investors about the project. A well-written paper will include the details of its token distribution, its financials, and its future. In fact, a good white paper will contain a section that explains where the money is going. This section should also be detailed enough to answer the questions that investors may have. It should include a summary of the project's goals.
Quoted in and contributed to 50+ national & international publications (Bloomberg, FirstPost, SwissInfo, Outlook Money, Yahoo News, Times of India, Economic Times, Business Standard, Quartz, Global Legal Post, International Bar Association, LawAsia, BioSpectrum Asia, Digital News Asia, e27, Leaders Speak, Entrepreneur India, VCCircle, AutoTech).
Global Blockchain Lawyers (www.GlobalBlockchainLawyers.com) is a digital platform to discuss legal issues, latest technology and legal developments, and applicable laws in the dynamic field of Digital Currency, Blockchain, Bitcoin, Cryptocurrency and raising capital through the sale of tokens or coins (ICO or Initial Coin Offerings).
Resources:
https://eaglenetwork.app/white-paper
https://patentbusinesslawyer.com/contents-of-blockchain-cryptocurrency-white-paper/
https://www.mintdice.com/blog/understanding-crypto-white-papers